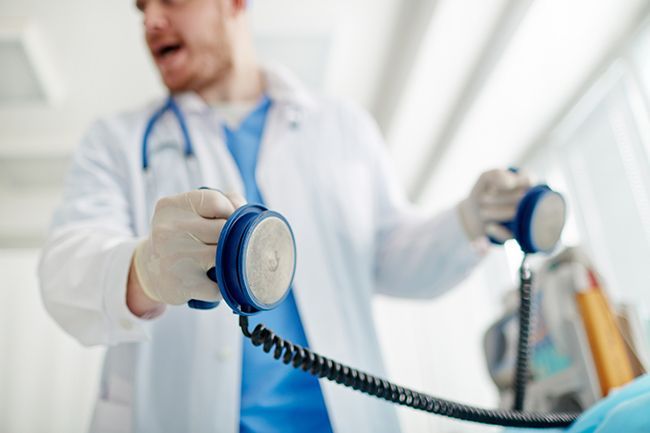 MILLION DOLLAR VERDICT REPORT
Founding partner, Richard A. Gurfein, tried a medical malpractice case to verdict in Nassau County, NY. The jury awarded the family of a 60 year old auto mechanic $3.6 million dollars for his wrongful death.
On July 23, 2010, Nelson Zuluaga drove himself to Winthrop Hospital because he was having chest pain, shortness of breath and palpitations. These were the same symptoms he had 4 months earlier, in March, that also brought him to Winthrop's emergency room. At that time a cardiologist assigned to him diagnosed Atrial Fibrillation and performed a cardioversion (synchronized shock to the heart) and restored his normal heartbeat.
Mr. Zuluaga was admitted to the Winthrop Hospital from the emergency room and placed on a telemetry floor until Monday when the cardiologist planned to do another cardioversion. However, around Midnight the first night he had an episode of 5 beats of ventricular tachycardia, renewed chest pain at a lower heart rate and a prolonged QT interval on his EKG.
These three new symptoms should have caused him to be moved to the CCU or coronary care unit where there would be more intensive monitoring of his condition. He was not moved. The following night, Saturday night at 2:40 AM Sunday morning, he again experienced 5 beats of ventricular tachycardia and the nurse notified the resident on call. This time no one came to the floor to examine Mr. Zuluaga, no vital signs were recorded in the chart, no orders were given and he was not transferred to the CCU. At 5:50AM he suffered a cardiac arrest and a team was called to the telemetry floor. Resuscitation lasted one hour and twenty minutes. He was shocked on 4 separate occasions. He survived, but suffered brain damage from lack of oxygen due to the extra time it took to start resuscitation. Had he been in the CCU, resuscitation would have begun much sooner and brain damage would have been avoided.
Mr. Zuluaga spent the next 5 and a half months at Winthrop Hospital with a myriad of medical problems caused by the brain damage and inactivity. He was then transferred to A. Holly Patterson Nursing Home and with a few short weeks of their therapies he was able to speak and make purposeful movements of his arms and legs. Unfortunately, while he was immobile at Winthrop a feeding tube had to be inserted through the stomach wall because he could not control his muscles sufficiently to chew or swallow. That tube became clogged on April 14, 2011 and he was taken to Nassau University Medical Center for evaluation and surgery. Before that could be done he suffered a respiratory arrest and cardiac arrest and could not be resuscitated and passed away on April 15, 2011, nine months after the arrest at Winthrop.
The jury made awards for wrongful death, medical expenses, loss of wages, loss of pension benefits, conscious pain and suffering and loss of consortium totaling $3,600,069.00 against Winthrop Hospital for the failure of the resident on call to respond to the nurse's notice of 5 beats of ventricular tachycardia.
Mr. Zuluaga is survived by his wife, Isabel, his children Nelson B. and Nelisa and one grandchild.